Tankless Water Heaters in Richmond
Start Enjoying Endless Hot Water Today!
If it's time to purchase a new water heater, now is a great time to consider upgrading to a tankless model. Tankless water heaters have gained in popularity in recent years, and for good reason: compared to conventional tank water heaters, tankless models are more energy efficient, more convenient, and take up less space. They also provide an endless supply of hot water, unlike tanked models that can only deliver a certain number of gallons at a time before needing to heat a new batch.
Our team of experts at Nuckols Plumbing, Heating & Cooling offers professional tankless water heater installation and repair services in Richmond and the surrounding areas. We have over 30 years of experience delivering quality work and take pride in treating our customers like family.
Want to learn more about upgrading to a tankless water heater? Schedule an appointment with Nuckols Plumbing, Heating & Cooling today by calling (804) 214-2077!
WHY NUCKOLS PLUMBING & GAS?
Complete & Professional Services From Start To Finish
We Treat Customers Like Family

We're Family Owned & Operated

We Always Do What is Right

100% Customer Satisfaction

We Pride Ourselves on Quality Work
On-Demand Hot Water Systems for Richmond-Area Homes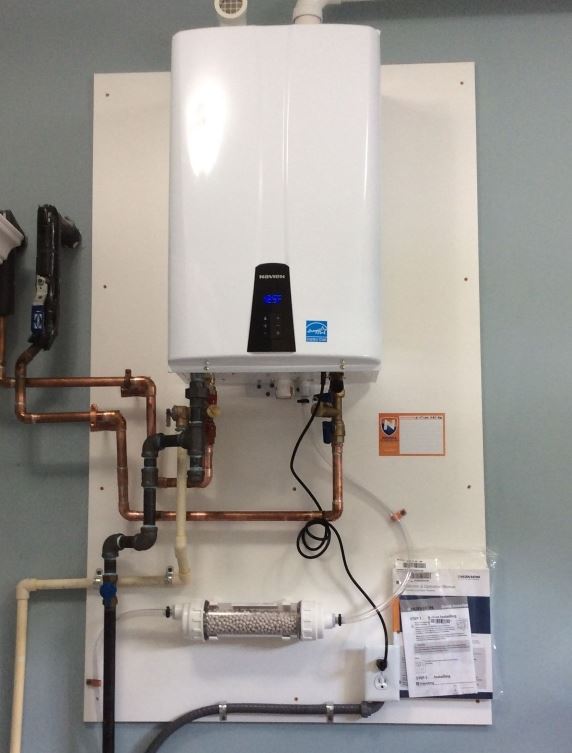 Benefits of Tankless Water Heater Installation
Tankless water heaters offer a variety of benefits in addition to providing on-demand hot water.
Purchasing a tankless water heater, while it is an initial investment, will save you money on operating costs in the long run. The Department of Energy states if your household uses less than 41 gallons of water every day, a tankless water heater is more energy-efficient and cost-effective than other models.
Tankless water heaters have an average lifespan of 20 years, making them significantly longer lasting than tank models that last around 8 to 12 years on average.
Additionally, tankless water heaters are much smaller and more compact than traditional water heaters, so they can be installed almost anywhere.
Learn more about the benefits of tankless water heaters by contacting our team of plumbing experts today.
Do Tankless Water Heaters Ever Need Repairs?
Tankless water heaters are a longer-lasting alternative to tank-style water heaters, but they are not immune to problems. While you may be aware of some warning signs that indicate there is a problem with the system, such as abrupt water temperature changes, you may not know what the exact cause of the issue is. Understanding why the problem is occurring is important, as this information can help you in the future, especially if you encounter a similar situation.
Tankless water heaters may potentially experience the following problems:
Sediment accumulation, commonly associated with hard water
Erosion, deterioration, or rust within the unit
An obstruction to the venting or exhaust
Overworking of the unit, typically when hot water is required for multiple things concurrently
When the system refuses to light or start, specifically for gas tankless water heaters
If your system is giving you trouble, don't hesitate to contact Nuckols Plumbing, Heating & Cooling to schedule your appointment for tankless water heater repair in Richmond, Glen Allen, or any of the surrounding areas.
Schedule Your Richmond Tankless Water Heater Service Today!
At Nuckols Plumbing, Heating & Cooling, we put our customer's satisfaction first. We deliver high-quality work as efficiently as possible, ensuring that you are 100% satisfied with your service. Our Richmond water heater experts offer repairs, replacements, and installation services for all types of tankless water heaters. If you have any questions regarding tankless water heaters, speak with our experts today.
Contact our team today to schedule a service appointment for tankless water heater installation, repair, or maintenance in Richmond.
"What more could one ask for!"

Terry M.