Richmond Tankless Water Heaters Services
Tankless Water Heater Experts In Glen Allen
If your hot water runs out quickly or if you get blasted with cold water midway through your shower, a tankless water heater may be the solution. Traditional water heaters warm up and store 30 to 40 gallons of water. When this hot water runs out, you can't get hot water until the tanks fills up again. Tankless water heaters deliver hot water instantly, without you needing to wait for the tank to fill up. Our team of Richmond tankless water heater experts from Nuckols Plumbing & Gas, LLC offers installment and repair services in Glen Allen, and the surrounding areas. We have over 30 years of experience and we deliver quality work and we treat customers like family.
Contact our Richmond tankless water heater experts today to schedule an appointment by calling (804) 214-2077!
WHY NUCKOLS PLUMBING & GAS?
Complete & Professional Services From Start To Finish
We Treat Customers Like Family

We're Family Owned & Operated

We Always Do What is Right

100% Customer Satisfaction

We Pride Quality Work
Benefits Of A Tankless Water Heater Installation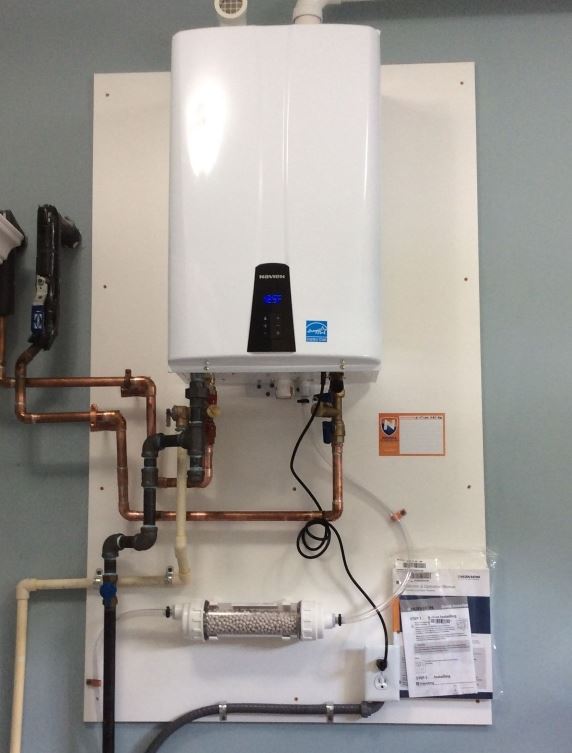 Tankless water heaters offer a variety of benefits in addition to providing on-demand hot water. For example, purchasing a tankless water heater will save you more money in the long run. The Department of Energy says if your household uses less than 41 gallons of water every day, a tankless model is more energy-efficient and cost-effective than other models.
Tankless water heaters are also extremely durable because they have an average lifespan of 20 years. They are also much smaller than traditional water heaters, so they can be installed almost anywhere. Learn more about the benefits of tankless water heaters in Richmond, VA by contacting our team of plumbing experts today.
When Do Tankless Water Heaters Need Repairs?
Tankless water heaters are known for being sturdier and more reliable than a tank-style water heater. However, they are not immune to breakdowns. While you may be aware of some warning signs that indicate there is a problem with the system, such as abrupt water temperature changes, you may not know what the exact cause of the issue is. Understanding why the problem is occurring is important, as this information can help you in the future, especially if you encounter a similar situation. Whether you need our Richmond tankless water heater installation or repairs, we can help!
Common problems associated with tankless water heaters include:
---
Sediment accumulation, commonly associated with hard water
Erosion, deterioration, or rust within the unit
An obstruction to the venting or exhaust
Overworking of the unit, typically when hot water is required for multiple things concurrently
When the system refuses to light or start, specifically for gas tankless water heaters
If you want to learn more about some of the other issues or warning signs that are common with these units, reach out to our Richmond tankless water heater experts today. We are here to answer any questions you may have.
Call Today For Reliable Richmond Tankless Water Heater Services!
At Nuckols Plumbing & Gas, LLC, we put our customer's satisfaction first. We deliver high-quality work as efficiently as possible, ensuring that you are 100% satisfied with your service. Our Richmond water heater experts offers repairs, replacements, and installation services for all types of tankless water heaters. Regardless of how big or small your plumbing or gas problem is, our team can fix it for you with the least inconvenience possible. If you have any questions regarding tankless water heaters, speak with our experts today. We provide repair, maintenance, and installment services in Richmond & Glen Allen.
Contact our team today to schedule a service appointment for your tankless water heater in Richmond, VA at (804) 214-2077!
"What more could one ask for!"

Terry M.